The ECB equine spa uses cold salt hydrotherapy to treat and prevent a multitude of injuries in 2°C /35°F saltwater.
This equine spa successfully addresses virtually all lower leg injuries including tendon and ligament injuries, laminitis, splints, sore shins, open wounds, and hoof conditions.
Cold Salt hydrotherapy for horses is an effective and drug-free therapy that can be used for rehabilitation and performance as well as injury prevention. It increases mobility and reduces swelling in the limbs before and after competitive events and training.
The cold temperature of the water in the equine spa rapidly increases blood circulation across the body. This allows for pain relief and reduces any bruising, swelling, and inflammation. Tissue damage is repaired and recovery time is reduced. The addition of salt allows for the benefits of salt water therapy where inflammation is further reduced and the natural healing process of an injury is enhanced.
ECB Equine has manufactured over 400 equine spas since 1998 with offices worldwide – headquartered in The UK and The USA. As the market leader, ECB has supplied all equine disciplines along with rehabilitation facilities. With the backing of cold salt hydrotherapy pioneer, Professor Evan Hunt, DVM, ECB customers are given exclusive advice and consultation from Professor Hunt.
Temperature
The ECB Equine Spa solution is chilled between 2°C/35°F and 4°C/37°F to take out heat and inflammation. The solution, at this temperature, provides analgesic pain management and inhibits enzyme
degeneration of tendons post injury.
Salt Concentration
The ECB salt solution acts as a hypertonic poultice, reducing heat while having a natural healing effect on wounds. Water density increases with salt concentration, which in turn increases pressure to aid fluid and waste dispersal.
Biological Control
Proper chemical and salt maintenance allows for thousands of successive treatments without water replacement. Temperature and chemical levels combine to eliminate the transfer of microbiological infection.
Aeration
Water aeration has a massaging effect on the leg and increases the dissolved oxygen content of the equine spa solution.
Depth
The depth of the water is proportionate to the pressure exerted on the leg which aids fluid and waste dispersal. Water depth is adjustable dependent upon the position and severity of injury.
Dissolved Oxygen
As water temperature decreases, its ability to carry oxygen increases. Increased oxygenation through the introduction of aeration is believed to enhance natural defence systems.
Equine Spa Models
All of our Spas include a state-of-the-art chiller unit, manure collection harnesses, starting supply of salts and chemicals, delivery, installation, full training and continued back up from Professor Hunt and ECB.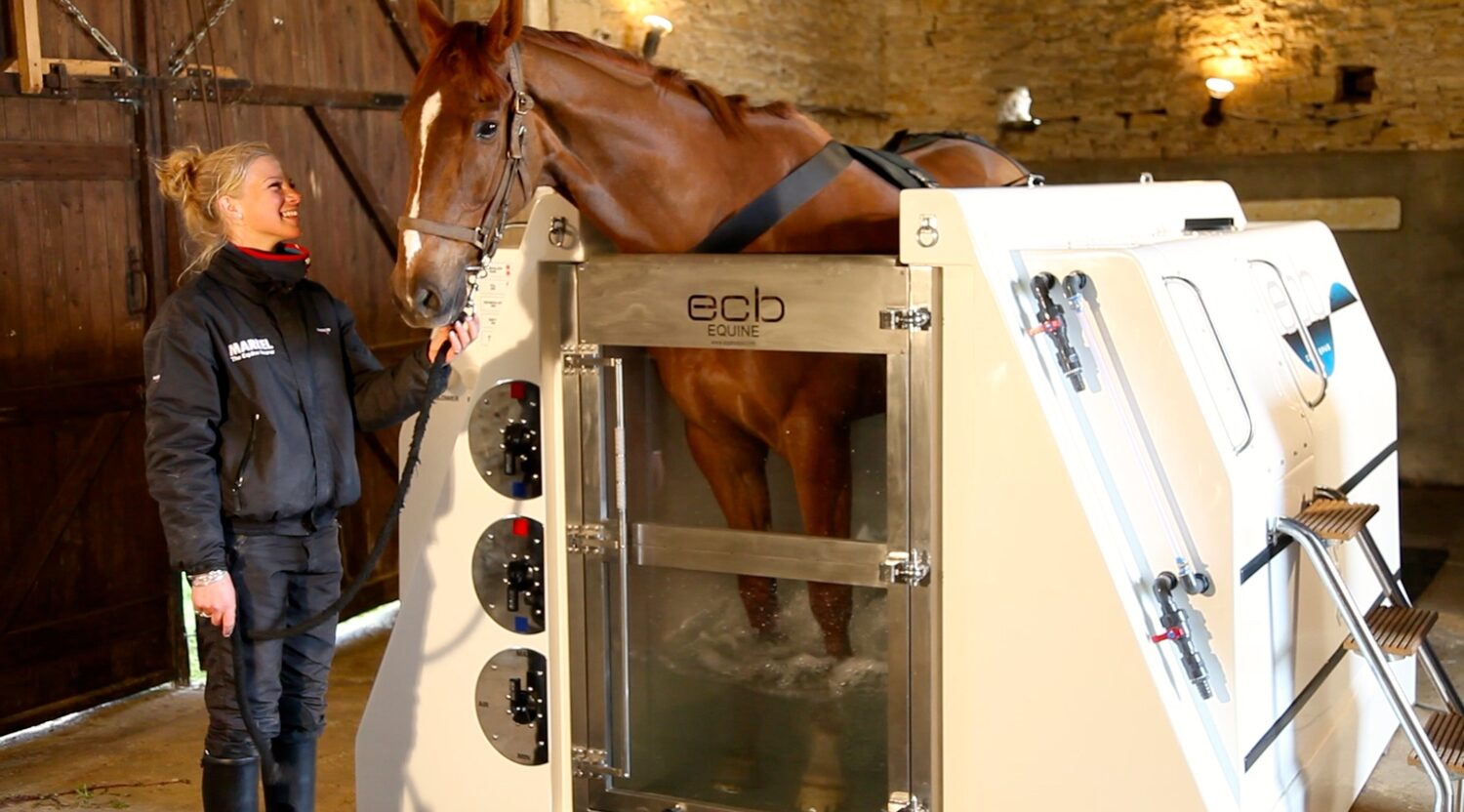 1. Premier Fibreglass Model
Our Premier Fiberglass model is built to last and will retain it's beautiful, clean appearance for many years to come (much like a fiberglass boat). The technology behind the fibreglass ECB Spa is called G.R.P. or "Glass Reinforced Polyester" – it has a better strength to weight ratio than steel, is a natural insulating material, won't warp, shrink or rust and is virtually maintenance free.
Features Include:
• G.R.P. Fiberglass
• Clear Perspex Doors
• Built-in Water Tank giving a compact footprint
• Half Door for introducing new horses
• Superior Triple Filtration allowing for 3,000 treatments (3 months)
• Quick Release Handle for immediate exit
• Tie-Up Rings
• Connective Hose for spot treating areas above the hocks
• Five Year Fiberglass Warranty and One Year Full Parts and Labour Warranty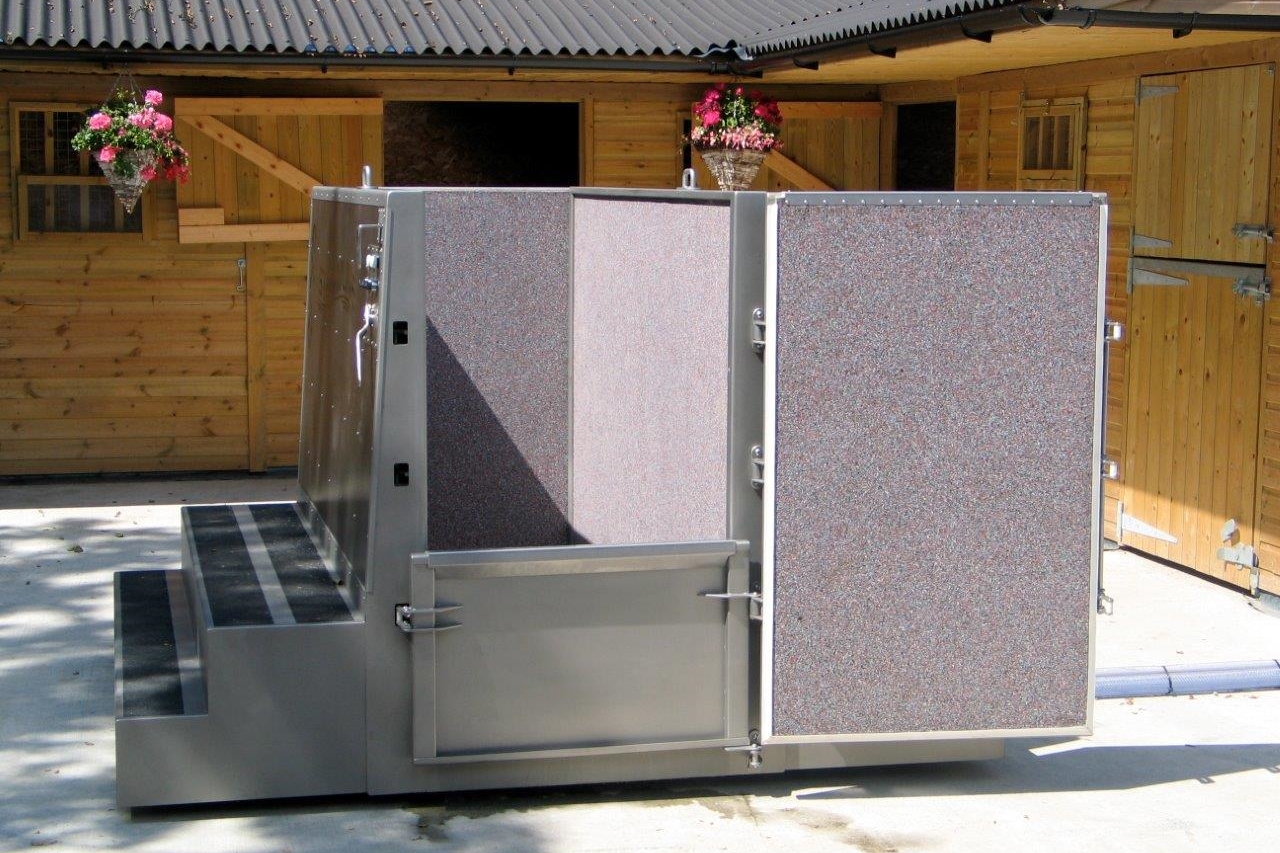 The ECB Streamline model was designed and built for facilities with fewer horses and those with a slightly lower budget.
Features include:
• Durable Marine Grade Stainless Steel
• Half Door for introducing new horses
• Quick Release Handle for immediate exit
• Connective Hose for spot treating areas above the hocks
• Separate Water Holding Tank
• One Year Full Parts and Labour Warranty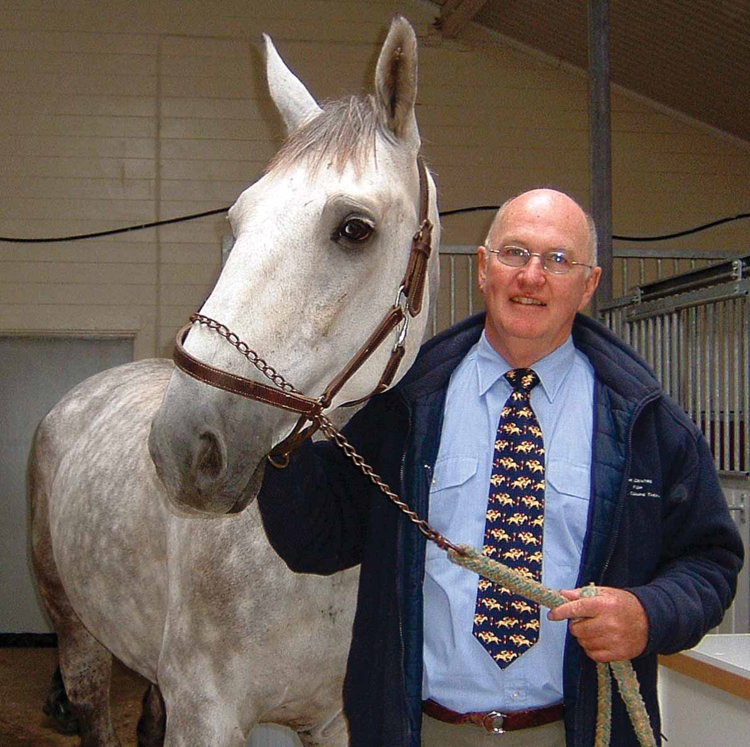 Professor Evan Hunt did the initial research into the development of cold salt hydrotherapy. His work has been accredited by worldwide professionals and today he works alongside ECB in the constant development of the ECB Equine Spa. He also provides backup for clients of ECB by using his expertise and knowledge to aid in injury diagnosis and treatment. After years of working within rehabilitation with various units on the market, Evan will only provide his support and backup to the ECB spa.
"Tendon injuries unfortunately come with performance horses, be it racing, eventing, showjumping or polo. These have traditionally taken a long time to respond and in the first cases of Spa use I saw, I couldn't believe the rate of recovery with results I hadn't previously achieved throughout my 35 years of veterinary experience. Trainers who have used the Spa on a regular basis have quickly established that there is a major cost benefit in terms of keeping horses competing right through their training period."
– Professor Evan Hunt BVSc MVSc PhD GDip ed Tert MRCVS – University of Sydney Orange, Australia